15 Puisi Cinta Dalam Bahasa Inggris yang Keren dan Romantis
Minggu, 27 Mar 2022 15:54 WIB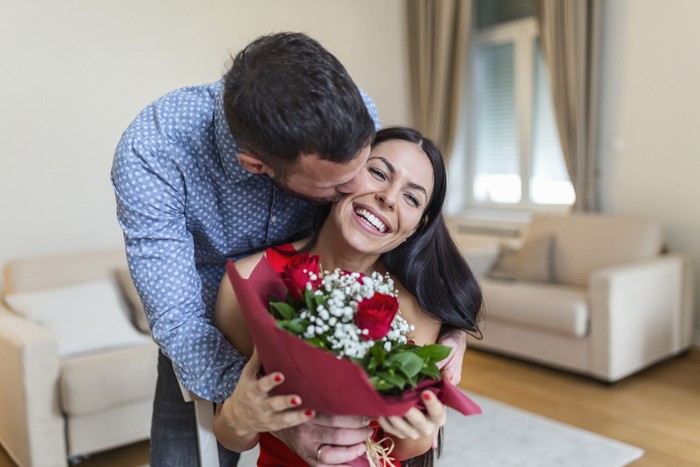 Jakarta
-
Memikirkan ingin mengirim puisi cinta kepada seseorang yang disukai? Atau mungkin memiliki hubungan jarak jauh dengan kekasih dan sesekali ingin memberikannya puisi cinta?
Jika iya maka bisa mencari inspirasi puisi cinta di sini. Ada beberapa puisi cinta dalam bahasa Inggris yang bisa membuatmu terlihat keren dan romantis
Kamu bisa mengirimkan puisi cinta dalam bahasa Inggris, baik lewat e-mail maupun Whatsapp. Tidak perlu membuat puisi cinta sendiri tapi bisa mengirimkan puisi cinta dari beberapa pujangga ternama.
Meski puisi cinta bukan buatanmu namun pastikan isinya sesuai dengan perasaan yang sedang dialami. Kirim puisi cinta kepada orang tersayang agar dia tahu betapa kamu menyayangi dan merindukannya.
Belum ada ide mengirimkan puisi cinta seperti apa? Berikut pilihan puisi cinta dalam bahasa Inggris yang keren dan romantis.
Yuk pilih puisi cinta yang bisa mewakili perasaanmu:
Puisi Cinta 1:
There is a place of peace
There is a place of joy
A place away from loneliness
A place away from pain
That place is next to you
A secret garden
Where black and white becomes a colorful place
Of loving, kisses, touching, caressing,
There with you and only you
Cares of the world melting away
Anger and fear are not allowed
Prejudice cannot enter
A place where two hearts beat as one
A place where two souls are interwoven,
Touching the inner-place of one another
A place that I long to come back to again and again
A place of sweet abandon
A place next to you
- Rocky Stonehedge
I don't think you will
Ever fully understand
How you touched my life
And made me who I am.
You are the keeper of my dreams,
The man who holds my heart,
The one I want to spend my life with,
The one with whom I will always stand.
Stand beside through thick and thin
Through all that life throws our way
Knowing that this special love we share
Will guide us each and every day.
I don't think you could ever feel
All the love I have to give,
And I'm sure you never realize
You've been my will to live.
- Stephanie Schiavone
Puisi Cinta 3:
You brought me sunshine
when I only saw rain.
You brought me laughter
when I only felt pain.
Romantics at heart?
Love at first sight?
Have I known you before?
God! This feels so right!
Have I met you before?
Another time, another place?
If it's only one night,
will it bring us disgrace?
What are these feelings?
Must they be temporary?
Just to make you happy
seems so necessary.
I want you to know,
'cause I'll never forget -
knowing your smile,
your kisses and yet...
Dreams are something,
that can't always come true,
nothing more we can say,
nothing more we can do.
- Donna Donathan
Puisi Cinta 4:
I am yours as the summer air at evening is
Possessed by the scent of linden blossoms,
As the snowcap gleams with light
Lent it by the brimming moon.
Without you I'd be an unleafed tree
Blasted in a bleakness with no Spring.
Your love is the weather of my being.
What is an island without the sea?
- Daniel Hoffman
Puisi Cinta 5:
Your lips so soft and red,
the thought of kissing you is stuck in my head.
Your beauty so bright and warm,
shining through the darkest storm.
Your eyes sparkle like stars in the night sky.
When I stare into them I feel like I am soaring high.
My love for you is pure and true.
I never stop thinking of you.
The sound of your voice saying, "I love you," makes my heart pound,
because I know my one and only I've truly found.
I promise to love you for every moment of forever,
and when everything else crumbles, I will never.
I am your armor to protect you from harm,
like you are to me, a lucky charm.
For you are my heart, my soul.
Baby, you are my whole world.
- Jamie Emm
Puisi Cinta 6:
My love is as a fever, longing still
For that which longer nurseth the disease,
Feeding on that which doth preserve the ill,
Th' uncertain sickly appetite to please.
My reason, the physician to my love,
Angry that his prescriptions are not kept,
Hath left me, and I desperate now approve
Desire is death, which physic did except.
Past cure I am, now reason is past care,
And frantic-mad with evermore unrest;
My thoughts and my discourse as madmen's are,
At random from the truth vainly expressed:
For I have sworn thee fair, and thought thee bright,
Who art as black as hell, as dark as night.
- William Shakespeare
Puisi Cinta 7:
I promise to Love you through the good times and bad
I'll Love you when I'm angry, hurt and mad
Love is a choice I've made to devote my life
To making you, my world, my wife
Nothing will ever change that choice that I've made
Even when we feel our Love start to fade
It's inside my soul, and nothing can shake
My Love for you, that's a promise I won't break
- Sean Short
Puisi Cinta 8:
Before I met you,
I felt that I couldn't love anyone,
That nobody would be able to fill the void in my heart,
But that all changed when I met you.
Then I came to realize you were always on my mind.
You're funny and sweet.
You make me laugh and smile.
You take away all my anger and sadness.
You make me weak when I talk to you.
Then I started to write poems about you.
Now I have come to realize that I am hopelessly in love with you.
- Keith Hank
Puisi Cinta 9:
You will come one day in a waver of love,
Tender as dew, impetuous as rain,
The tan of the sun will be on your skin,
The purr of the breeze in your murmuring speech,
You will pose with a hill-flower grace.
You will come, with your slim, expressive arms,
A poise of the head no sculptor has caught
And nuances spoken with shoulder and neck,
Your face in pass-and-repass of moods
As many as skies in delicate change
Of cloud and blue and flimmering sun.
Yet,
You may not come, O girl of a dream,
We may but pass as the world goes by
And take from a look of eyes into eyes,
A film of hope and a memoried day.
- Carl Sandburg
Puisi Cinta 10:
A glimpse through an interstice caught,
Of a crowd of workmen and drivers in a bar-room around the stove late of a winter night, and I unremarked seated in a corner,
Of a youth who loves me and whom I love, silently approaching and seating himself near, that he may hold me by the hand,
A long while amid the noises of coming and going, of drinking and oath and smutty jest,
There we two, content, happy in being together, speaking little, perhaps not a word.
- Walt Whitman
Puisi Cinta 11:
My love for you is like the raging sea,
So powerful and deep it will forever be.
Through storm, wind, and heavy rain,
It will withstand every pain.
Our hearts are so pure and love so sweet.
I love you more with every heartbeat!
- Elaine Chetty
Puisi Cinta 12:
Who's deeply in love with you
a person who would sail any sea
all of that he would do, just for you
He's not afraid of anything
completely nothing at all
because for you he will conquer all his fears
to save you from all those tears
This person I wish to bring out someday
so I can finally say
this three words I keep deep inside me
which has been trying to break free
I know the time will come
when I can finally tell you
this three wonderful words which are
I Love You
- James Toles
Puisi Cinta 13:
You and I
Have so much love,
That it
Burns like a fire,
In which we bake a lump of clay
Molded into a figure of you
And a figure of me.
Then we take both of them,
And break them into pieces,
And mix the pieces with water,
And mold again a figure of you,
And a figure of me.
I am in your clay.
You are in my clay.
In life we share a single quilt.
In death we will share one bed.
- Kuan Tao-Sheng
Puisi Cinta 14:
To some stranger you might be nothing at all.
But to me you are why I wake up in the mornings,
You are the reason why am not crying anymore.
You were the gentle man that came along,
And put together the pieces of me someone else had made.
Every time our lips meet it's like we have made a trip around the universe,
Just me and you looking down on everyone else.
I know whenever those 3 words are going to be said it will be heaven on earth,
I will melt to the soil beneath your feet.
But now even being reminded you like me calls those butterfly's to my stomach.
It's like your voice has a secret code for the butterflies all over the earth,
Every time you speak they always show up.
Just remember,
To a stranger you might mean nothing at all.
But to me you're my butterfly whisperer,
My smile.
- Alisha Manion
Puisi Cinta 15:
Do you remember still the falling stars
that like swift horses through the heavens raced
and suddenly leaped across the hurdles
of our wishes-do you recall? And we
did make so many! For there were countless numbers
of stars: each time we looked above we were
astounded by the swiftness of their daring play,
while in our hearts we felt safe and secure
watching these brilliant bodies disintegrate,
knowing somehow we had survived their fall.
- Maria Wilke
Mana puisi cinta yang mewakili perasaanmu saat ini?
Simak Video "

Puisi untuk Putin, Artis Annalynne McCord Jadi Sorotan Netizen

"
[Gambas:Video 20detik]
(eny/eny)